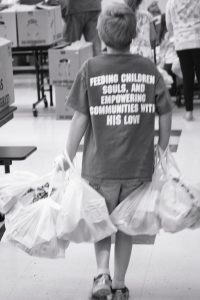 Community Combined Ministries (CCM) is a 501(c)3 non-profit organization. Under the CCM umbrella is (KPP) Kidz Power Pacs. This special weekend feeding ministry serves over 900 children from 39 schools in Berkeley and Jefferson Counties West Virginia.
DID YOU KNOW… During the 2016 – 2017 school year KPP served 240,870 meals and 137,640 sides in weekend bags, 83,700 meals during holiday breaks and 40,500 meals during the summer months for a total of 502,710 meals/sides served.
Kidz Power Pacs serves the following schools
BERKELEY COUNTY
Bedington Elementary
Berkeley Heights Head Start
Bunker Hill Elementary
Burke St. Elementary
Eagle School Intermediate
Head Start Berkeley Heights
Inwood Primary
Inwood Family Worship Center Head Start
James Rumsey
James Rumsey Head Start
Marlowe Elementary
Marlowe Head Start
Mountain Ridge Middle
Opequon Elementary
Potomack Intermediate
Rocky Knoll Elementary
Rosemont Elementary
Spring Mills Head Start
Spring Mills Primary
St. Leo's Head Start
Winchester Ave. Elementary
JEFFERSON COUNTY
Blue Ridge Elementary
Blue Ridge Primary
Blue Ridge Head Start
Charles Town Middle
CW Shipley
Driswood Elementary
Driswood Head Start
Harpers Ferry Middle
Jefferson High School
North Jefferson Elementary
Opportunity Learning Center
Page Jackson Elementary
Ranson Elementary
South Jefferson Elementary
South Jefferson Head Start
TA Lowery Elementary
T.A. Lowery Head Start
Washington High School
Wildwood Middle
Wright Denny Intermediate
Thank you for your continual prayers, love and support.