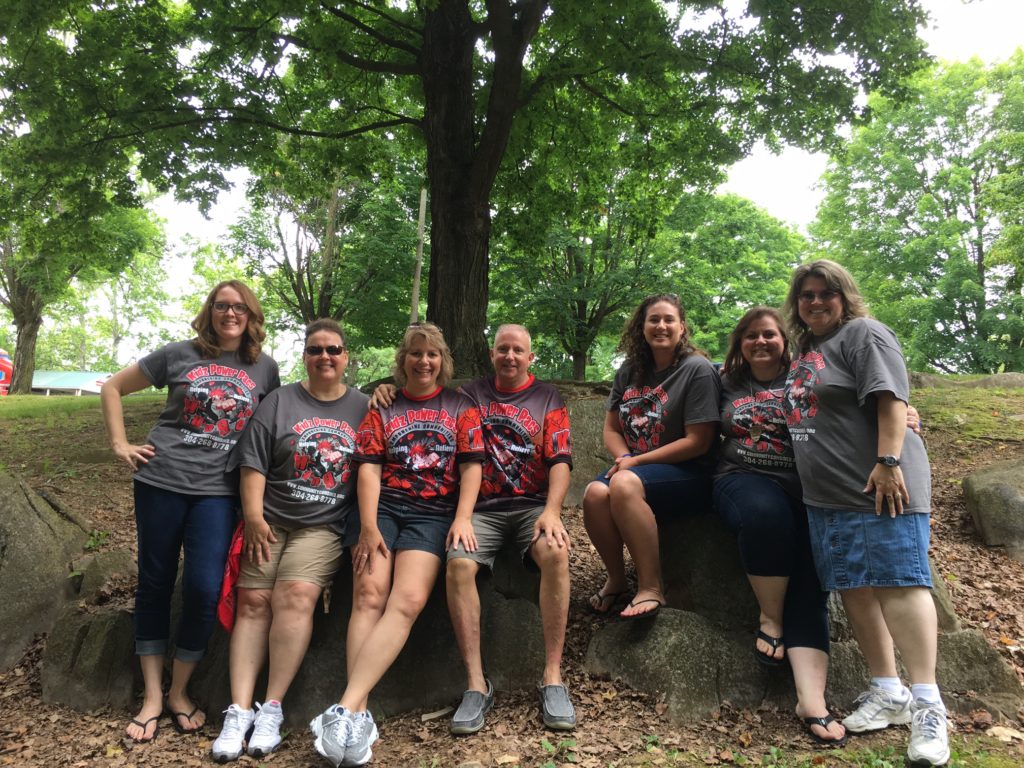 Diana Jones Wall, Founder / President
Diana "Jones" Wall was born and raised in Berkeley County, WV where she has been active in ministry since her youth. She is happily married and the mother of five beautiful children. She and her husband, Danny, have spent time to El Salvador to help spread God's word through a feeding program, street ministry, and working with construction crews.
In 2007, God gave her the vision of working closely with our local schools to help feed the children and their families. Since that time, God has abundantly blessed this calling, her efforts as well as that of the board and the hundreds of local volunteers to grow Community Combined Ministries (CCM).
Diana utilizes her administration talents and skills she has garnered from running her own home business for nine years, as well as years of professional experience in negotiating with merchandisers, managers, and customers in addition to her current role as office manager for her husband's businesses, Apex Custom Homes LLC and DLW Enterprises LLC. She pulls from her professional background experience and combines that with her willing heart to serve God and strong desire to feed our local children's stomachs and souls as she leads CCM as President.
Danny Wall, Vice President
Danny was born and raised in Berkeley County, WV where he has been active in ministry since his youth. He is happily married and the father of five beautiful children. Danny has operated his own building and rental business since the age of 19, and has helped many local churches to build or remodel using his God given talents, materials and time. He also served as a team leader and mentor on many youth mission trips.
Danny loves to serve and has traveled to Mexico and El Salvador on numerous mission trips. In El Salvador, he and his wife, Diana, spent time helping spread God's word through a feeding program, street ministry, and working with construction crews. In 2007, Danny was called into ministry, and with his wife, work side by side, being actively involved in all aspects of CCM/KPP.
Becky Fauble, Secretary / Marketing Coordinator
"Bec" along with her husband Joey recently moved back to Martinsburg from Winchester, VA.  Since their move to Winchester several years ago, Bec continued to return to Berkeley County to serve with CCM/KPP. Professionally, Bec has over 26 years of experience as a professional freelance graphic designer and is faithful and honored to bring her talents and services to the ministry to help promote and share Gods vision. Bec is an active member of Valley View Chapel, Martinsburg, WV.
You will always see Bec running around packings snapping pics to share, smiling and more! She and Joey also provide the tasty breakfast goodies and drinks to "power-up" the volunteers for the tasks ahead that day. "I truly enjoy packings and sharing. There is no better feeling than serving side-by-side / arm-in-arm with my KPP family in what God has called us each for." Bec has served with CCM/KPP for over seven years and is faithfully committed in her role and stands firm with the CCM/KPP vision and mission statement. "We are called to be His hands and feet. There is no better feeling than knowing you are doing what God has called you to do and make a difference in our community."
Liz Coleman, Community Liaison
Elizabeth currently lives in Berkeley County, WV with her 12 year old daughter. She works as a substitute teacher for the Berkeley County public school system and is an active member of New Hope Church in Inwood, WV.
Liz began volunteering with CCM/KPP several years ago and has been amazed at the ministry's growth progress and community impact. "Seeing the need and hearing the stories at school, has really made and impact on my heart. Few things are more important than ensuring our children – our future – are equipped to be successful with the most basic of necessities."
Liz is truly grateful to be a small part of a great ministry that tends to these most basic and essential need
Michelle Duerr, Community Liaison
Michelle Duerr has been a volunteer with Community Combined Ministries for over 5 years. During her time of serving, she has actively participated in numerous roles including food delivery, outreach events, summer program, and is active in all aspects of the monthly packings.
Michelle has a strong personal desire to see "hope revived" in our community. "I have personally seen lives transformed by offering genuine tender loving care and meeting basic needs."
Michelle and her husband, Breese, have 4 children that attend Berkeley County Schools. They each have shared first hand accounts of children's reactions who receive Kids Power Pacs. The extra care given brings a smile from the children as well as a undisguised burst of joy. She knows first hand that KPP plays a vital role in our schools and is sometimes the only source of nourishment as well as hope.
Besides serving as a "Community Liaison" with Community Combined Ministry, Michelle also serves at New Hope Church in Inwood, WV. She has been the Family Care Leader for the past 7 years. This is yet another area that she gets the honor and joy of serving in crisis situations.
Michelle has a deep love of children and community and truly wants to see them both flourish.
Shannon Masters, Treasure
Shannon is a long term resident of South Berkeley County, WV. She is "happy and blessed" with a wonderful husband, Buck, and two beautiful children. They enjoy serving together as a family at the Kidz Power Pacs packings.
Currently, Shannon is an occupational therapist and is aspiring to become a life coach. Ever since the age of nine, Shannon has wanted to help others.
Through the Kids Power Pacs ministry, Shannon says, "We hope to have the opportunity to help countless children in our community have food so that they can grow and learn. Kids Power Pacs is a blessing and I am so happy to be a part of this great team!"
Brenda Leonard, Community Liaison
Brenda currently lives in South Berkeley County, WV with her husband and son. She is excited for the many opportunities that God has provided to her, and enjoys serving as a Community Liaison for KPP! She is an active member of Heritage Free Will Baptist Church, Inwood, WV.
Kayla Jainniney, Community Liaison
Kayla was born and raised in Martinsburg, WV, which has allowed her to make many connections in her community. She is thankful for the many opportunities that God has provided to her, including her most recent position as Community Liaison on the KPP board!
Kayla is currently fulfilling her childhood dream job as a teacher. While there, she gets the privilege of helping to make sure students receive Kidz Power Pacs bags.
Kayla is also an active member of Crossroads Church where she enjoys being a part of the Kids Experience Team.  In her spare time, Kayla enjoys tutoring, nannying, and summer missions trips. She prays God will bless her with children of her own one day, so she can help raise up the next generation of Kidz Power Pacs volunteers!