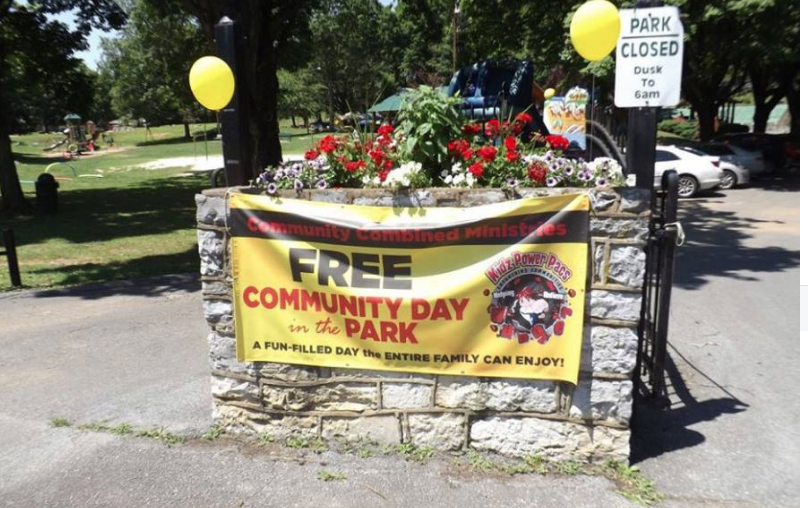 Free Family-Friendly Fun Day in the Park!
Details:
Be our guests! Community Combined Ministries will be hosting our "6th Annual Community Day in the Park". Join us! Bring the family, your friends and neighbors. CCM is a community ministry and we love sharing and blessing. We are also celebrating our 10th Anniversary! It's time to celebrate.
Saturday, June 17 • 12 Noon-5:30 PM
War Memorial Park, 500 N Tennessee Ave., Martinsburg, WV 25401
Community Day in the Park is a family-friendly FREE community event that changes lives and creates a HUGE impact. It's fun for the whole family! A time to relax, have fun and enjoy a day out. Share and invite everyone you know! It's a blast.
This year there will be lots of extras including exciting children's entertainment that everyone will enjoy and more! Don't miss it!
Plan on attending and spending the day with us. War Memorial Park is a beautiful venu with open lawns to relax on, play grounds to have play on and shade trees to keep you cool. Enjoy spirit-filled praise and worship bands, a local children's choir, an amazing and educational critter education presentation and a thrilling daredevil flame thrower show!!
ENTERTAINMENT INCLUDES:
+ Local children's choir. These talented amazing youth have a special show planned. Don't miss it!
+ Critters & Conservation Animal Education Presentation @ 2:00 PM. Come see and learn about a "Southern American Horned Frog, Olive Keeled Flat Rock Scorpion, Columbian Tegu Lizard, Gray Rat Snake and African Pygmy Hedgehog". Participants will have the opportunity to pet, hold and or feed a few of the animals.
http://www.crittersandconservation.com/cnc/index.php?page=how-cmsms-works
+ The Amazing "Blazing Tyler Fyre Lucky Daredevil Thrillshow" @ 4:00 PM. Tyler will be thrilling the audience with his family entertainment of flame throwing, sword swallowing and other entertaining talents!! A must see!! He will be sticking around after the show to mingle with the children and families.
PERFORMANCE SCHEDULE:
12:00 PM — Daniel's Vision Band
1:20 PM — ONE Life – Children's Choir
2:00 PM — Critters & Conservation Animal Education Presentation
3:00 PM — Christversal with Antoine Robinson
4:00 PM — The Amazing Blazing Tyler Fyre – Flame Thrower
4:30 PM — Freeing the Prisoners Band
5:00 PM — Rich Miller Band
ALSO ENJOY:
• Meeting the Chick-fil-A Cow
• Have lunch with us and enjoy Free hot dogs, bottled water, chips, popcorn, cookies, Sno-Kones® and cotton candy (While Supplies Last)
• Fun-filled activities and treats for the kids including inflatable slide and obstacle course, face painting and free goodies!
• Local agencies and churches will have resources available to share and so much more!!!
+ Questions?
Like and follow us on Facebook!
www.facebook.com/CommunityCombinedMinistries
+ Volunteers & Event Sponsors Needed
FREE event booth set-ups available for partnering churches/outreaches/non-profits/agencies — All other applications we warmly ask for a $20 donation which feeds a child for a month. Applications upon approval… contact us today!! 🙂
+ Event Sponsors: $100 to $250 needed to help cover the cost of the outreach. Your business or church will be featured on flyers, website, facebook promotions and banner. Contact us for details!
Community Combined Ministries
PO Box 2805, Martinsburg, WV 25402
email: communitycombinedwv@gmail.com
To learn more about Community Combined Ministries, Kidz Power Pacs and King Foods Ministry visit us online @ www.communitycombined.org
THANK YOU TO ALL OUR SPONSORS! YOUR SUPPORT IS GREATLY APPRECIATED.
• Salvation Army (Hot Dogs Sponsor)
Martinsburg
304-267-4612
www.facebook.com/martinsburgsalvationarmy
• Unicare (Obstacles Inflatable Sponsor)
Gina Olindo
304-410-6579
https://www.unicare.com/wps/portal/chpproviderunicare?content_path=provider/noapplication/plansbenefits/medical/notertiary/pw_ad058661.htm&state=WV&label=Contacts
• Skahill Designs (Special Event Sponsor for KPP Kids)
Bunker Hill
304-283-9552
www.facebook.com/SkahillDesigns
• Ed Stone – Edward Jones Financials (Hot Dogs Sponsor)
Inwood
304-229-3100
https://www.edwardjones.com/financial-advisor/index.html?CIRN=AEKrzhc%2BEvF5MVp6emAC%2F3Aw7MqaAFgKBhwevT0ge8bGB9yFGIlF9p7qGWXw5%2Bvz
• Apex Custom Homes LLC (Chips Sponsor)
Martinsburg
304-671-2039
Email: Apexcustomhomes@yahoo.com
• Bath Fitter (Hot Dog Buns Sponsor)
Winchester
540-522-7800
www.bathfittermidatlantic.com
• Harvest Pointe Church (Popcorn Station Sponsor)
Charles Town
304-728-1920
www.hpcc.com
• New Hope Church (Sno Kone/Cotton Candy Station Sponsor)
Inwood
304-671-3980
www.newhopewv.com
• Lee Earehart – Fargo Nationwide (Bottled Water Sponsor)
Hedgesville
304-754-0190
http://agency.nationwide.com/lee-earehart-in-hedgesville-wv
• Wanda Melon – Weichert Realtors – Blue Ribbon of Martinsburg (Slide Inflatable Sponsor)
703-507-9050
www.blueribbonrealty.us/wanda-melon
• Master Dry (Critter Show Sponsor)
Martinsburg
304-264-6868
www.callmasterdry.com
• The Home Depot Supply Chain (Tents Sponsor)
Winchester
540-723-0619
www.homedepot.com